OSI
Model
---
The Open Systems InterConnection (OSI) model is a reference model developed by International Organization for Standardization (ISO) in 1984. Which describes how communication should take place between two nodes in a network.
Description
Framework design to communicate across all types of computer systems.
Consists of seven separate but related layers.
Each layer performs specific functions and then passes result to another layer.
Each layer defines the process of moving information across a network.
Request of data moves from top application layer to bottom physical layer and reverse happens at the receiving end.
Remember its not a protocol but its a model.
Diagram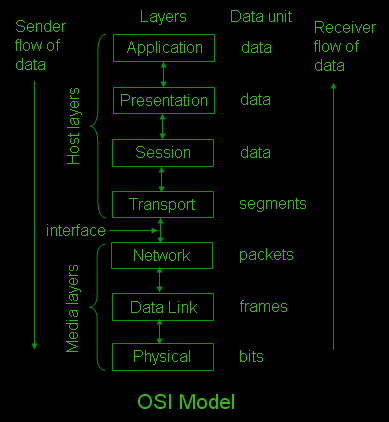 Layers
1. Physical Layer
2. Data Link layer
3. Network Layer
4. Transport Layer
5. Session Layer
6. Presentation Layer
7. Application Layer
Details of each layer is explained in further points of this chapter.
---
Tip Box
Read this reference model properly, because this will help you in understanding TCP/IP protocol and other networking concepts.
CodesandTutorials © 2014 All Rights Reserved